Dealing with a carrier-locked iPhone can be very frustrating because it is not fair to be forced to use only one carrier's network. However, to help you with this situation, SafeUnlocks has launched the perfect carrier unlock tool, it is fast, easy to use, effective, and compatible with any iOS cellular device. Get to know SafeUnlocks and how to unlock iPhone without carrier in minutes with this software!
Is a Carrier Unlock the same as an IMEI Unlock?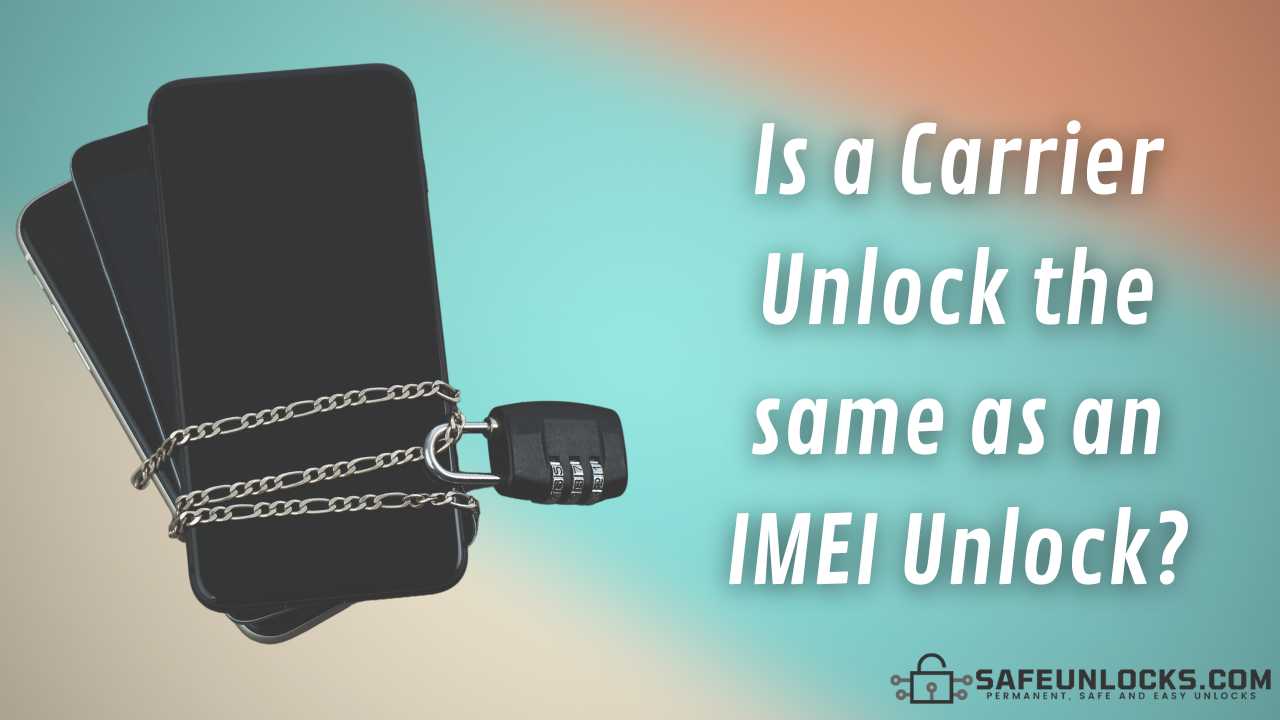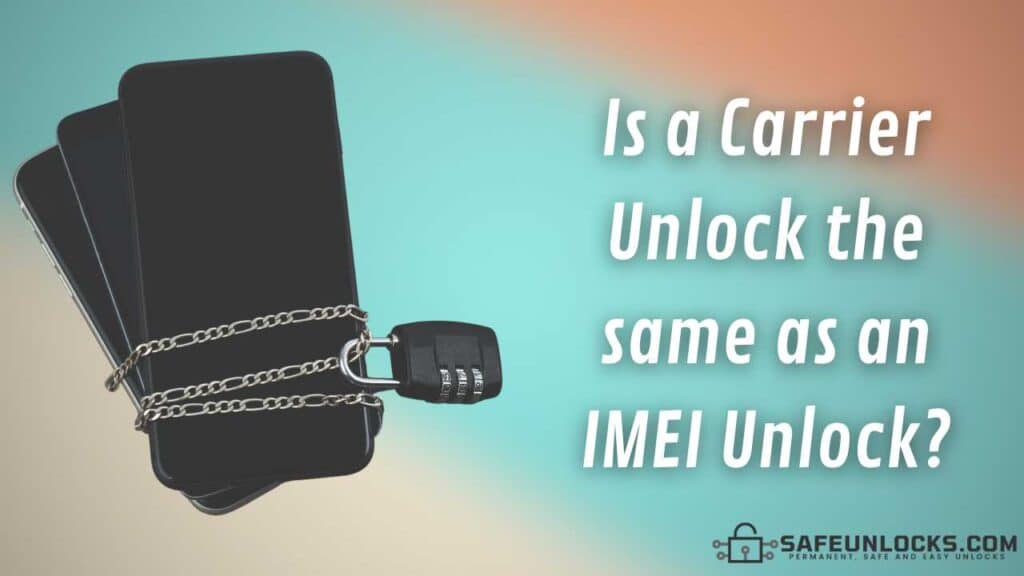 No, a SIM or Carrier unlock (also known as network unlock) is totally different from an IMEI unlock. Learn with us the main differences between those two procedures that even though are available on SafeUnlocks' website, are meant to fix different problems on your iPhone.
What is a Carrier, Network, or SIM Unlocking Process?
This kind of unlock process is meant to remove the carrier, network, or SIM lock. The SIM lock is the restriction that doesn't let your iPhone get connected to any network but your current carrier network service, this process is also known as "opening the terminals of a phone", and after completing the process, you'll be able to use your phone with a different carrier at any time and use a new SIM card without a problem.
What is an IMEI unlock for?
An IMEI unlock is a procedure to remove the lock that gets activated on an iPhone when it is reported on the blacklist. This kind of lock is often confused with the carrier lock because both have to do with the connectivity of the device, but while the carrier lock only permits its usage with a SIM card of the original carrier, the IMEI lock doesn't let you use your iPhone with any network at all.
What Benefits do I get after my iPhone or iOS device is Unlocked?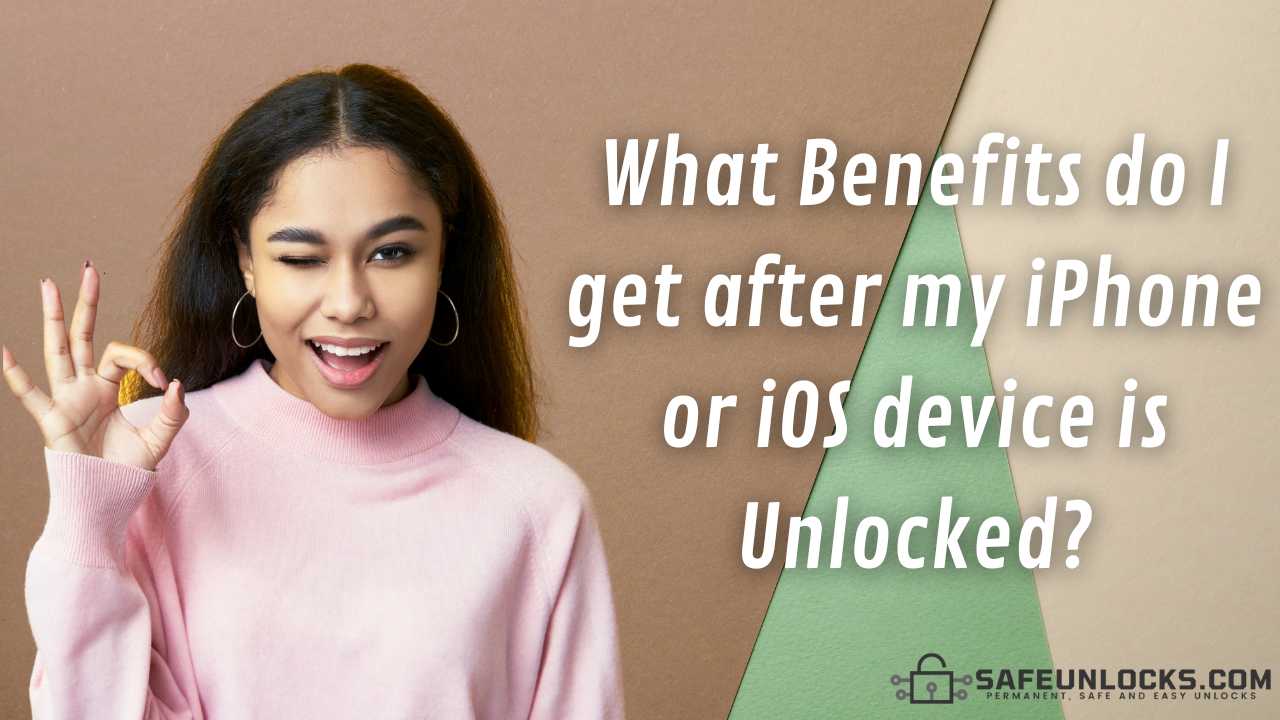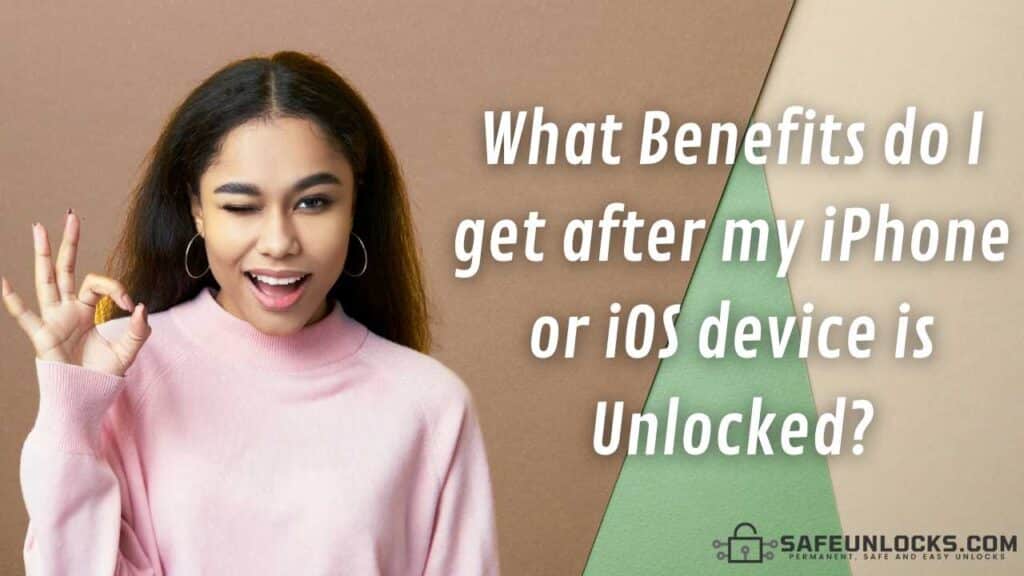 It is normal to wonder what are the punctual benefits of unlocking your device, and here we'll highlight the principal advantages that come when an iPhone is unlocked and ready to be used with any mobile operator:
If your iPhone is locked, its resell price decreases a lot, so if at any time you want to resell it to buy a newer version, you won't get as much as if you were reselling an unlocked device.
If you have SIM restrictions on your iPhone you won't be able to take advantage of other mobile operator's plans, prices, incentives, and benefits.
Unlocking a phone allows you to use it with any carrier worldwide, so if you travel a lot or want to move to another country, you will still be able to use the phone with a local network provider.
Having a locked iPhone means that your carrier controls your iOS updates, so if you unlock it, you'll receive all iOS updates directly from Apple (iOS updates come sooner).
What are the Principal ways to Unlock an iPhone for use with another carrier?
The principal and official method is contacting your carrier, but they will ask you to be the original owner of the device and to have an active plan with them for more than a year, among other requirements. The next option is to jailbreak the iPhone (which we don't recommend for different reasons that we'll mention next), and finally, the last and best option is unlocking an iPhone without having to contact the carrier provider through SafeUnlocks' unlocking service.
Will a Jailbreak unlock my iPhone to use with another SIM card?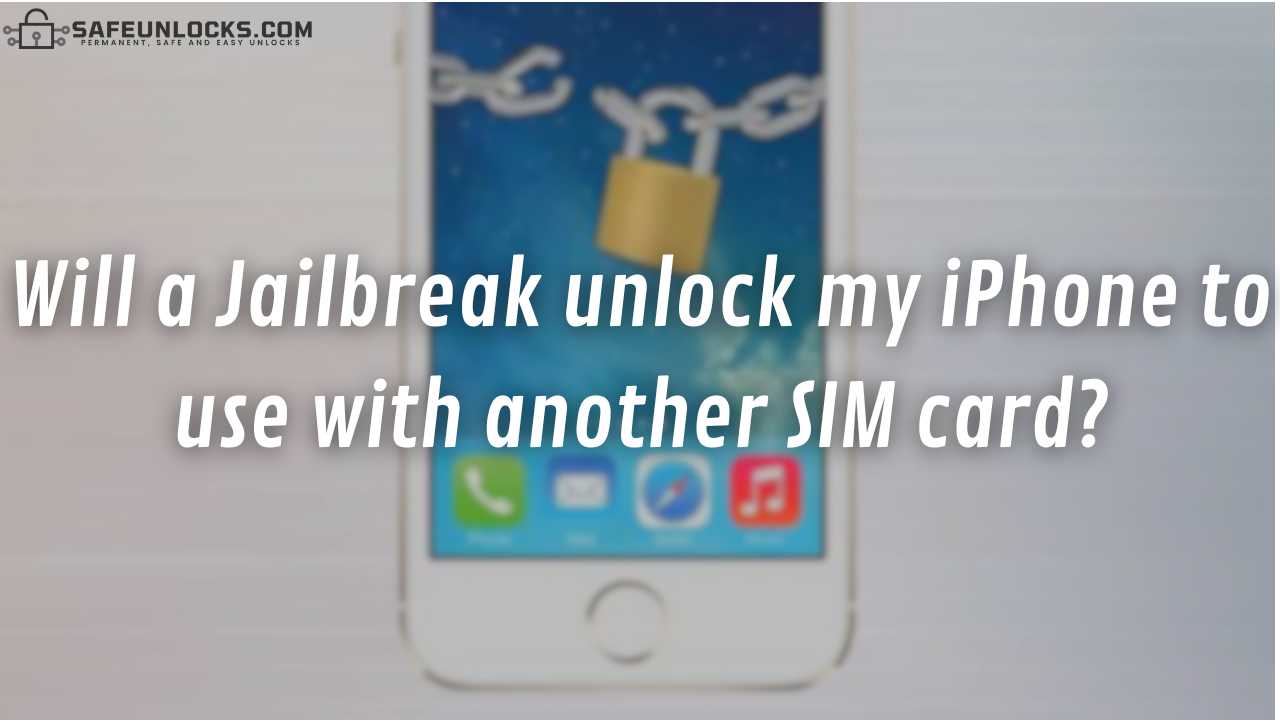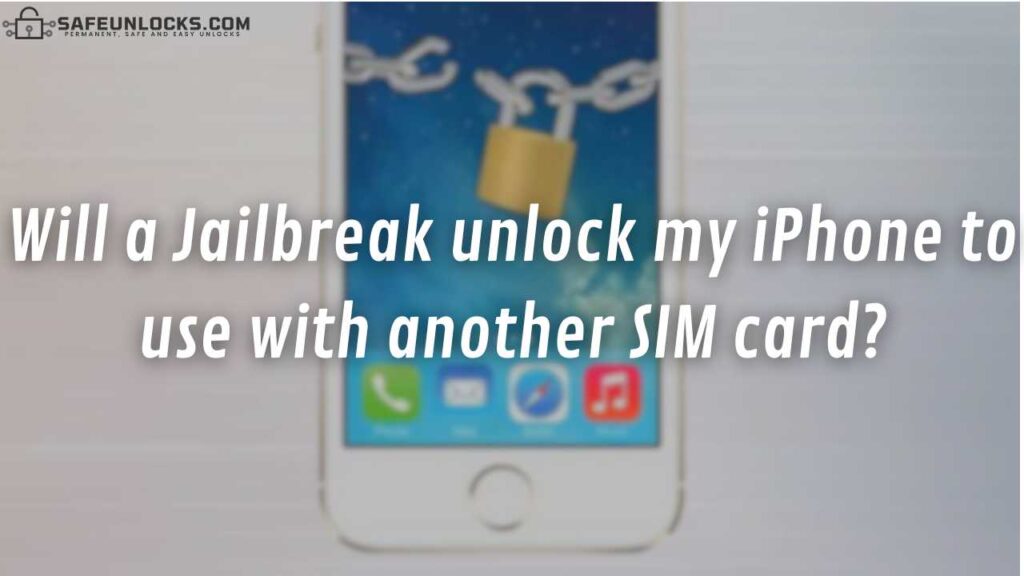 As we were mentioning before, even though jailbreaking your iPhone is a common method to deactivate the carrier lock, it doesn't really work well for that purpose. When you jailbreak your iPhone you get more access to the device (because you get admin permissions), and this would work if the carrier lock was an internal lock.
However, as the SIM lock is a remotely activated restriction on the mobile bands of your device, even if you jailbreak it, your iPhone will still be locked to a carrier. Using this method won't help you unlock the phone to be able to switch carriers, you'll just pretty much deactivate Apple's security layer and expose your phone to viruses and hackers.
Benefits of Unlocking your iPhone without SIM Card or the Carrier
Unlocking your iPhone with SafeUnlocks doesn't require you to enter your passcode, Apple ID, or any kind of sensitive information.
SafeUnlocks doesn't take days to complete the unlock process, after you request an unlock we only take 20 minutes to complete the order.
We can unlock all iPhones regardless of their specific model, iOS version, or old or new carrier, as long as the device is locked it can be unlocked.
This new service is pretty easy to use, you won't have to deal with complicated programs or unclear instructions.
Your iPhone device won't be affected by this process, the unlock software of SafeUnlocks is pretty safe to use.
This service is almost free to use, you only have to pay $1 per unlocked device regardless of the specific carrier locking the phone.
SIM Unlock: How to Unlock iPhone without Carrier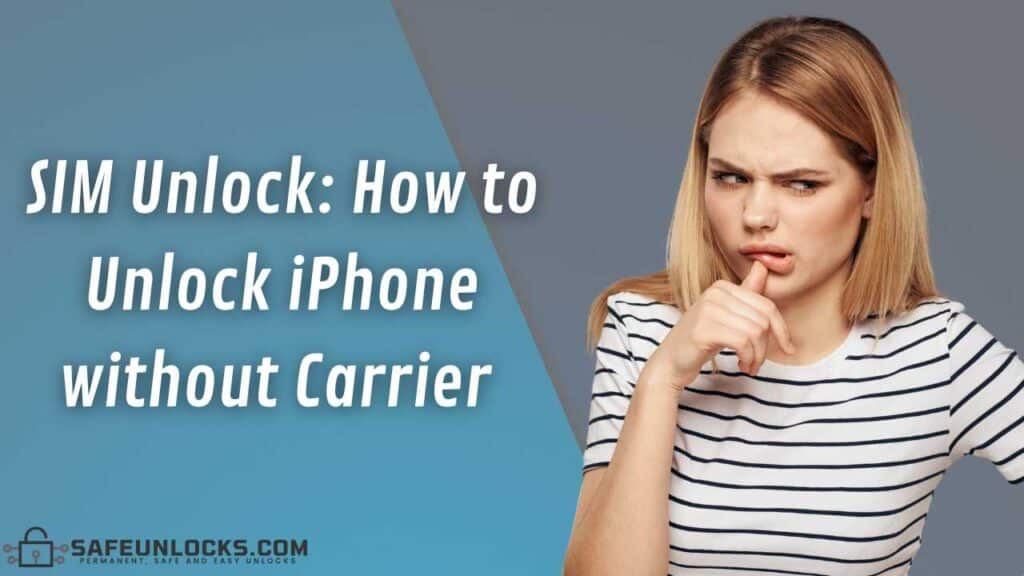 Unlocking your locked iPhone using SafeUnlocks is pretty easy, all you have to do is to visit SafeUnlocks' main page and click on the "Carrier Unlock" option located on the menu bar (it is on the top of the page), and follow the instructions to generate your NCK unlock code.
Here are the pieces of information that SafeUnlocks needs to unlock your iPhone (this applies to the SIM lock, the IMEI lock, and the iCloud activation lock):
Your name.
Your email address.
Your IMEI number.
The phone's brand (Apple) and specific model.
Remember that to unlock the iPhone you'll need to create an account with SafeUnlocks and generate a $1 payment to cover the unlock. We recommend that after the unlock you insert the new SIM card you want to start using (or just any SIM card from a different carrier) on your phone to test the unlock results.