Get to know SafeUnlocks' ultimate solution to unlock your EE SIM card effortlessly with our easy-to-use PUK unlock platform and gain uninterrupted access to your phone, its EE SIM, all and its features.
In this article, we will guide you through SIM locks and how to remove them by getting the PUK code for your EE SIM with us. Say goodbye to SIM card lockouts and regain control of your device with our convenient Unlock PUK code EE SIM solution now!
EE Network: Why do I Need a PUK Code to use my EE SIM?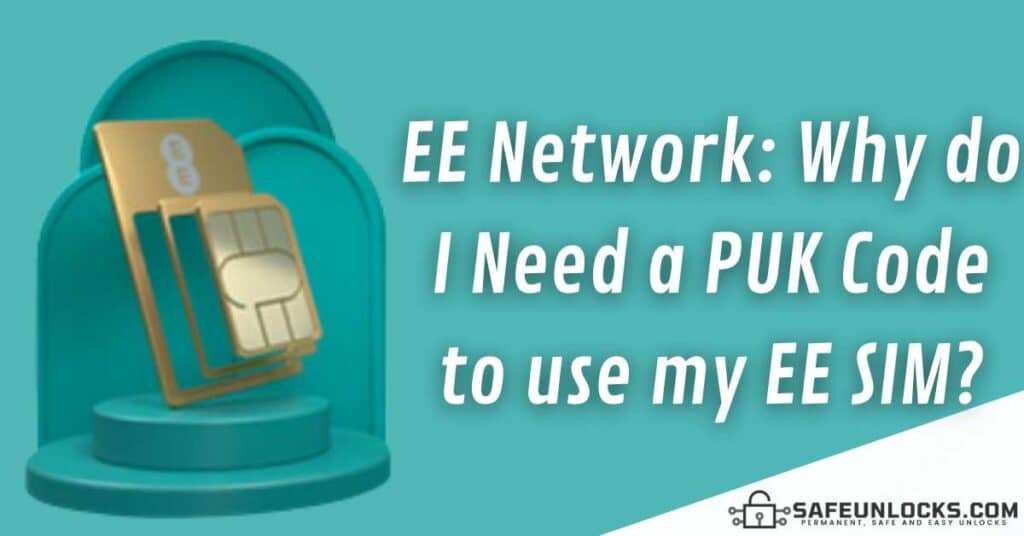 EE is a very important network provider because of its strong network coverage and reliability, they offer seamless connectivity across the United Kingdom and provides fast internet speeds and access to the latest mobile innovations.
EE's network leadership in 4G and 5G technology and partnerships also enable customers to enjoy smooth roaming options and international coverage, enhancing their connectivity experience, so all in all, this is a pretty good network provider and is well known in the UK.
However, the EE community is not exempt from SIM locks! EE SIM cards can also get locked if you enter the wrong PIN code of your SIM more than three times and permanently locked if you enter the wrong PUK code as well.
What are PIN and PUK Codes for?
The PIN code is a security feature that protects the SIM card from unauthorized access, while the PUK code is used to unlock a SIM card that has been blocked due to multiple incorrect PIN entire. Both codes (the PIN or "Personal Identification Number" and PUK or "Personal Unlock Key") serve important purposes for mobile devices and SIM cards as they provide an extra layer of security and control over the SIM card, ensuring authorized usage and protecting personal information.
How to get a PUK Code to Unlock the EE SIM of my Phone?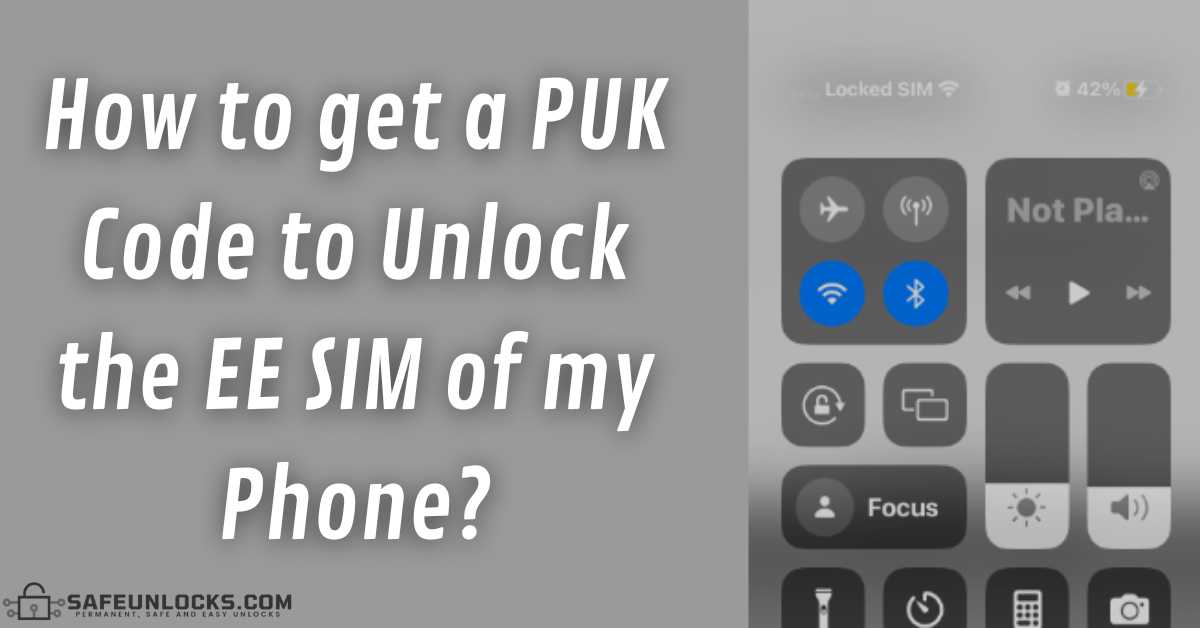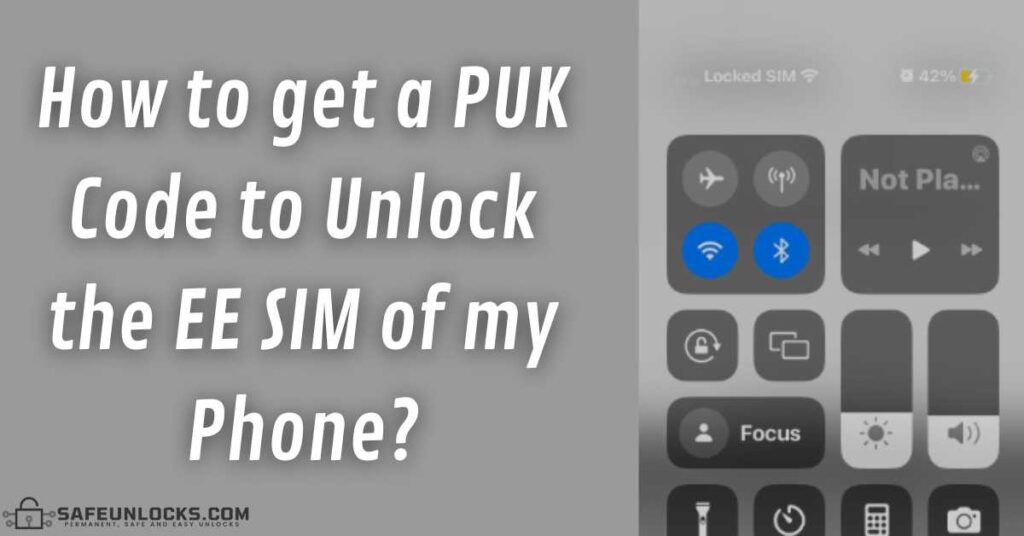 There are three ways of getting the PUK code to unblock your SIM card, you can either find it on your original SIM card package, contact your carrier so that they generate a new code for you, or use SafeUnlocks to solve the issue in 5 minutes. Let's dive into the options you have a little more to check which is the best alternative for you!
Finding your SIM Card PIN Number and PUK Code on the SIM Package
Both the PIN and PUK codes are printed on the back of your SIM card's original package, you can try to check if you still have its package or if you have the documents you were given when you acquired that mobile plan (those codes are usually there as well).
Contacting EE for them to unlock your SIM Card
You can SIM unlock your phone directly with EE if you go to your EE user account, go to the menu, and open the "Manage Device" tab. Once there, you'll need to scroll down until you see the "Unblock SIM (PUK code)" option, click on it, and then select the "Show PUK Code" option.
Now, if you already entered the wrong PUK code 10 times and your SIM is now permanently locked, this method won't work for you and you'll need to contact EE's customer service department for them to fix the issue and send you a new one. However, this usually takes a lot of time and you'll be required to prove you are the original owner of both the phone and the SIM, so it is better if you just proceed with an unlock with SafeUnlocks.
Benefits of an "Unlock PUK Code EE SIM" with SafeUnlocks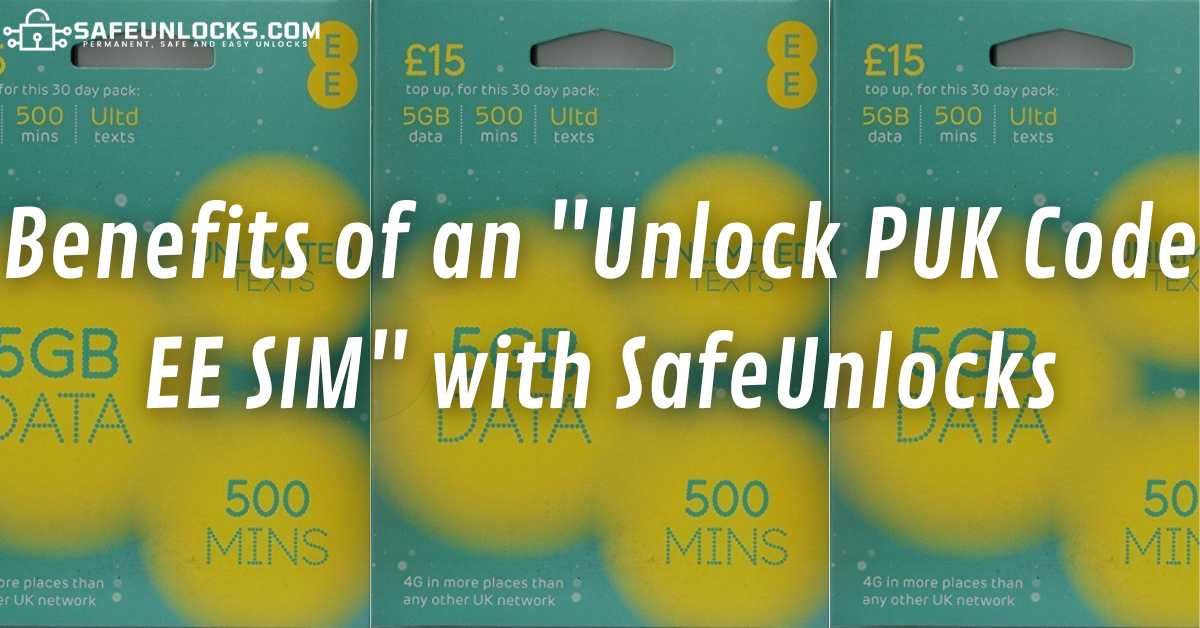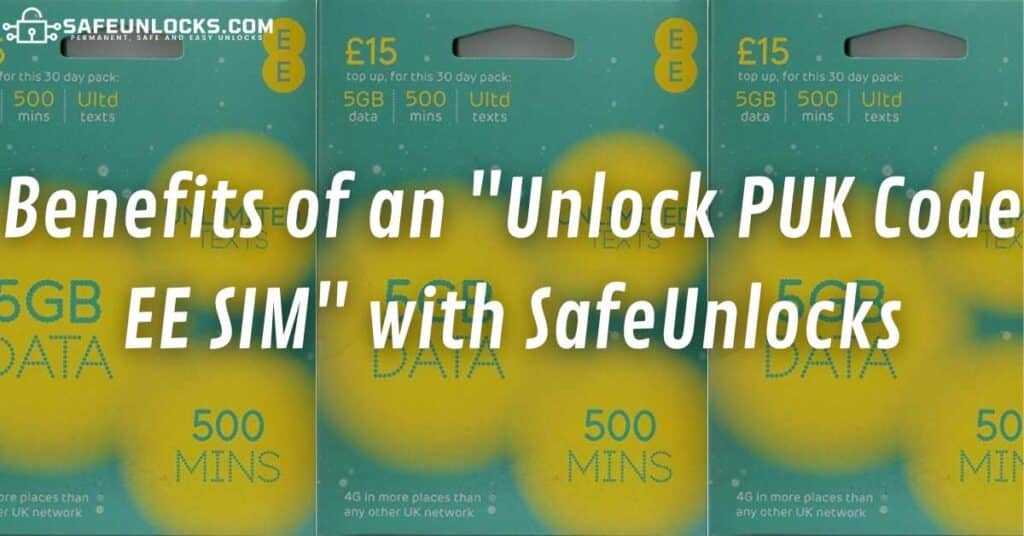 SafeUnlock's online unlock tool is such a great solution if you mistakenly blocked your SIM card by entering the wrong SIM card PIN number three times in a row, but that's not all, this service can also help you if you entered the wrong PUK code as well and now your SIM is permanently locked!
Advantages of Unlocking your SIM with SafeUnlocks' Unique Unlock Software
Contacting your carrier to ask them to please take care of this problem is not necessary anymore as SafeUnlocks has a faster and easier solution for you, let's check the principal benefits of getting your PUK code with us:
This unlock process only takes from 5 to 10 minutes.
This service only costs $1.
SafeUnlocks is completely safe, we count on SSL certificate protection to protect our users!
The steps are very easy to follow, you won't struggle!
You'll be able to unlock your SIM without having to text or call EE.
How to Unlock PUK Code EE SIM with SafeUnlocks' Help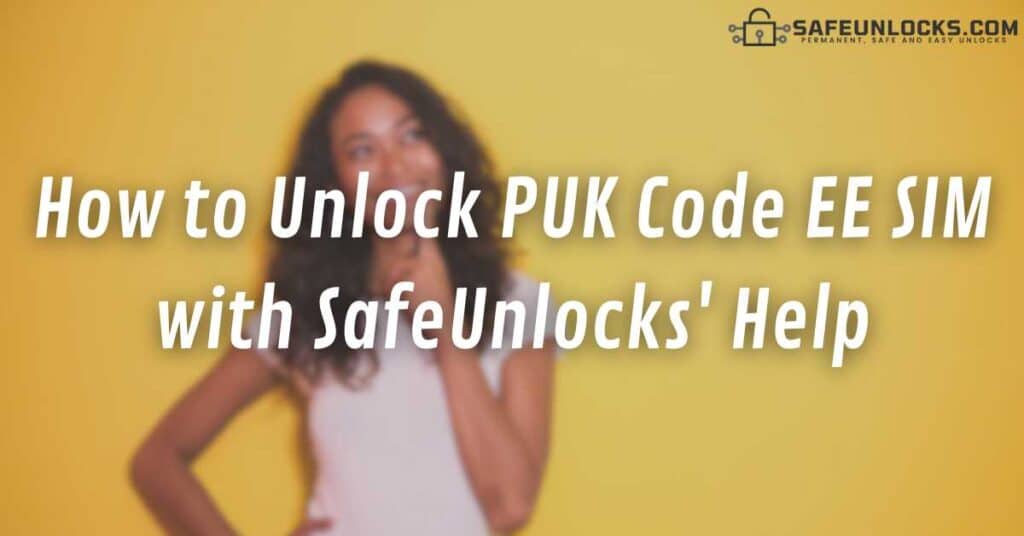 If you find yourself stuck on the SIM lock screen and don't have the PUK code for your EE SIM card, don't worry, we've got your back! Let's check together a very simple step-by-step on how to fix your PUK-locked EE SIM card.
Enter your name ✓, a valid email address ✓, and the phone number of your SIM ✓.
Click on the "Proceed" red button to start the unlock process.
Log into your SafeUnlocks account or create one if you don't have it yet.
Make the $1 payment that our system requires to unlock your SIM. Remember that we accept all forms of payment and you can even transfer the $1 from your PayPal account.
What will happen after I make the Payment?
After the system receives your $1 payment, it will take a couple of minutes to process your request and generate the new PUK code for your phone. Once you receive it, you'll just need to enter your PUK code into your phone to fix your SIM card and enjoy its fully unlocked features from now on; remember that you can keep using it if the phone gets locked again!
We hope this article has been useful for you and has cleared some of your doubts, if you have any questions, don't hesitate to contact us or check all the resources we have available on our website. Click here to get started now!