Did you mistakenly lock your Straight Talk SIM card? Don't worry! Calling the network provider is not the only solution, thanks to SafeUnlocks' just launched unlock tool. Let's talk about SIM locks and how to unlock Straight Talk SIM Card PIN/PUK-locked phones in 10 minutes without having to contact the carrier.
Straight Talk: SIM cards and Phones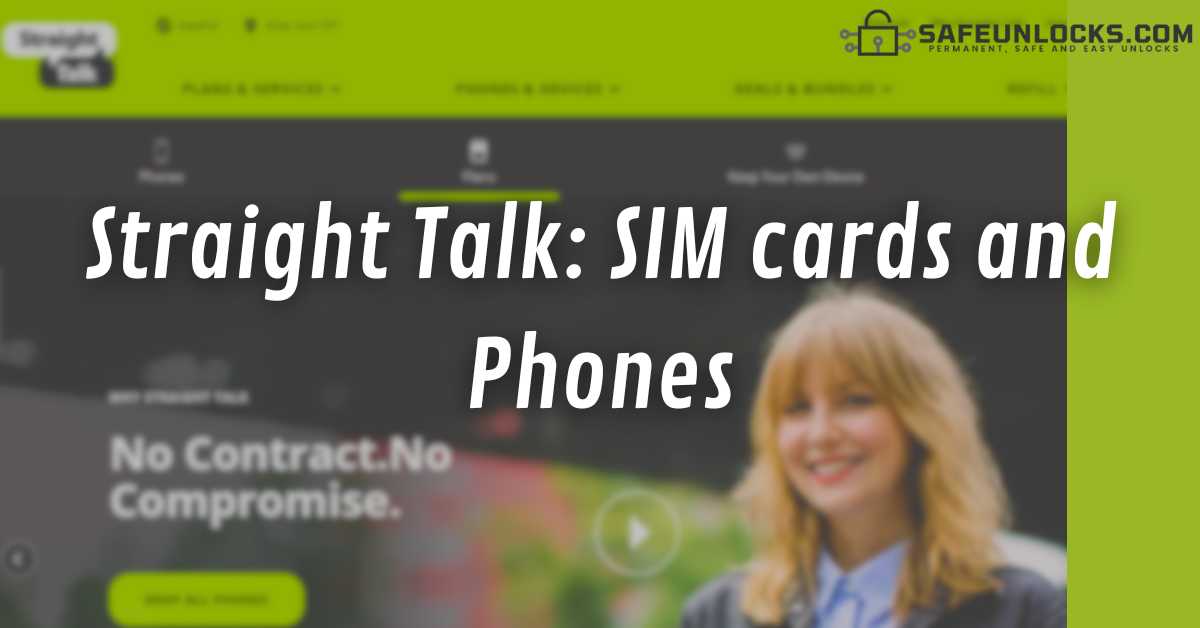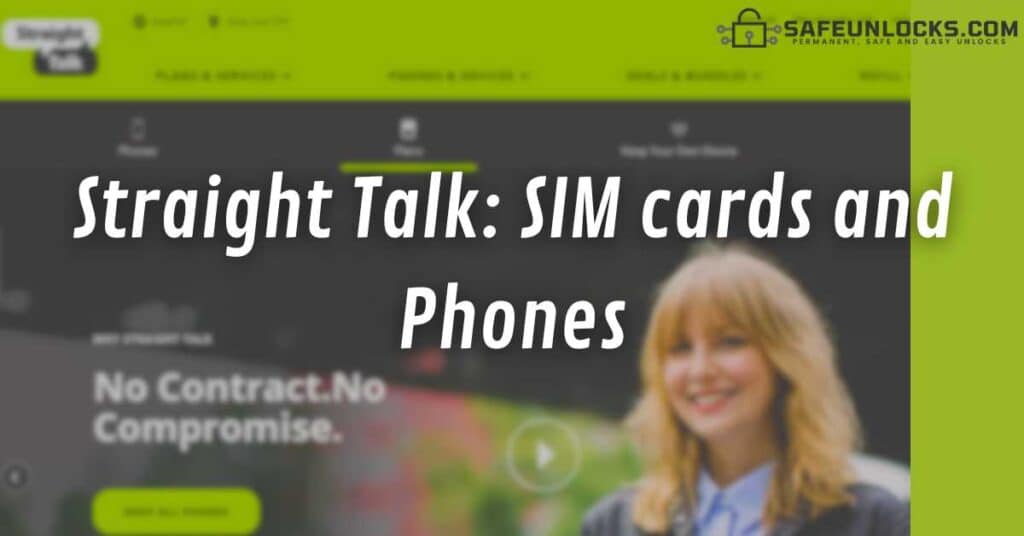 Straight Talk is an MVNO or "Mobile Virtual Network Operator" owned by Verizon that offers prepaid wireless services in the US. This carrier is a solid competitor among low-cost cell phone plans and is pretty well known because the company offers the benefits of a reliable network without the commitment of a long-term contract.
Do all SIM Cards come with PIN and PUK Codes?
No, not all SIM cards come with a pre-assigned PIN and PUK code. Of course, most SIM cards are initially set with their default PIN and PUK codes printed on the SIM card's packaging, but others are not. Anyway, you can decide whether you want to activate or deactivate this protection, in fact, it's common for users to customize those codes for security reasons.
Is this SIM PIN Lock Permanent, or can it be Removed?
The SIM PIN lock is not permanent at all, but it can be a little more complicated depending on the case; for example, if you entered the wrong unlock PIN code three times or more, it is just a matter of getting the PUK (Personal Unblocking Key) code of the SIM and entering it, but if you entered the wrong PUK code as well, then unblocking your phone will require you to use SafeUnlocks' online service or to contact your carrier's customer care service for them to verify your identity and change the PUK code.
What is the Purpose of the PIN/PUK Numbers of my Straight Talk SIM?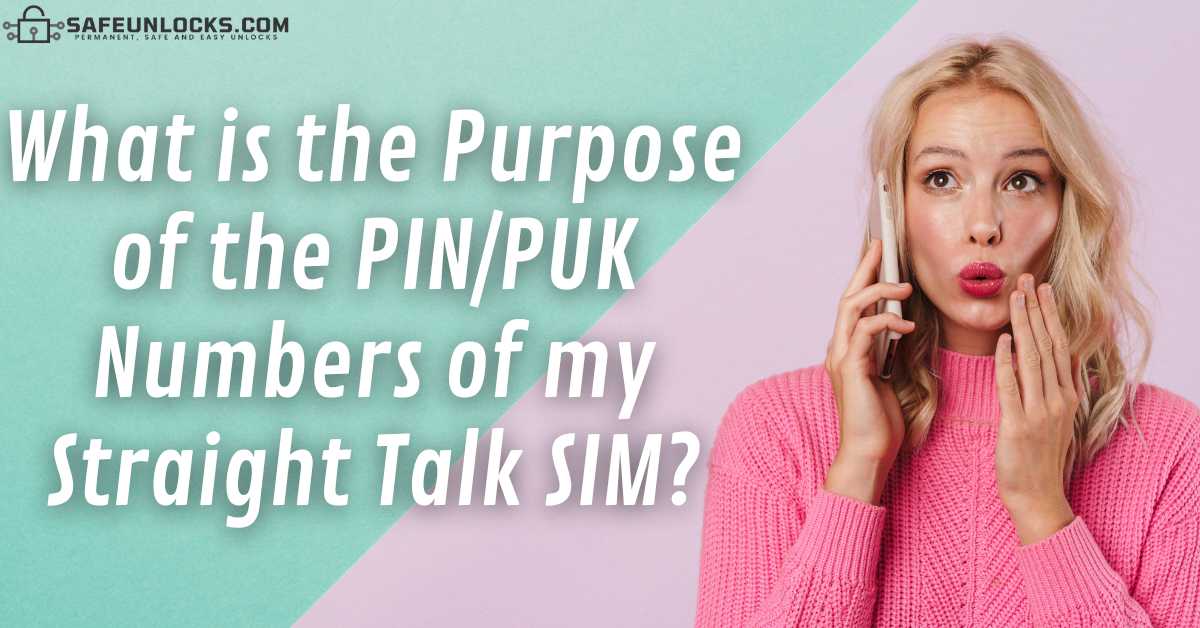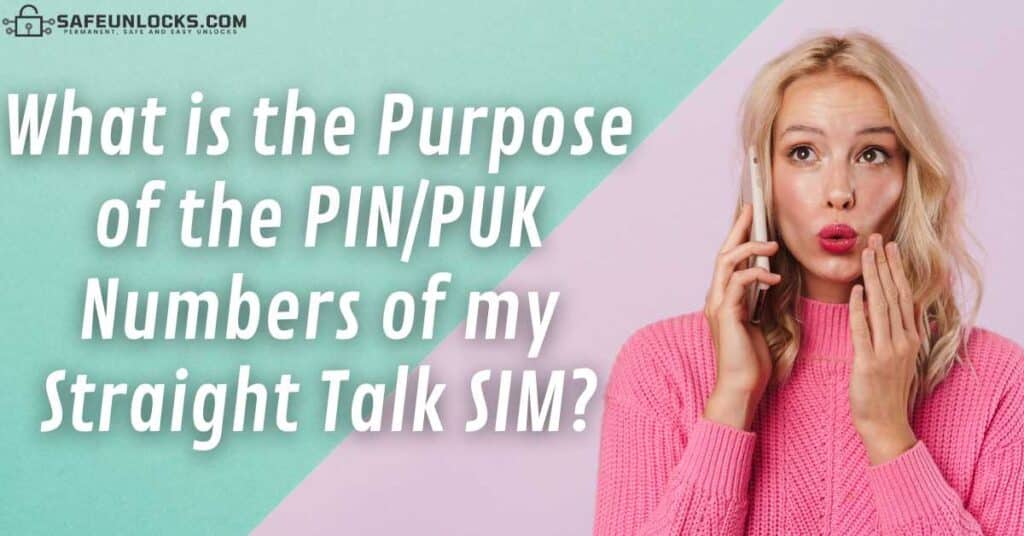 PIN and PUK codes are safety measures meant to protect the information of the Straight Talk customer that owns that specific SIM card. Keep in mind that your SIM card stores your contacts and has your phone number, so it can be used by third parties to steal your identity or commit any kind of fraud, and that is something you for sure want to avoid.
Now, if you don't save your contacts on your SIM card — it is possible to save your contacts on your Google or iCloud account or directly on your mobile device — and your phone number is not that important, then you can just go to your phone's settings app and disable this feature after you unlock the SIM.
Does this SIM protection block your SIM only or both the SIM and the Phone?
This is a question we receive a lot because you are dealing with a SIM lock there is a lock screen asking you to enter the PIN/PUK code that locks you out of your phone. However, your phone per se is not locked, just the SIM, so you can actually enter a new SIM card into the phone and use it without a problem, but the SIM will remain locked until you get your Straight Talk PUK code and enter it.
What do I Need to Unlock Straight Talk SIM Card with SafeUnlocks?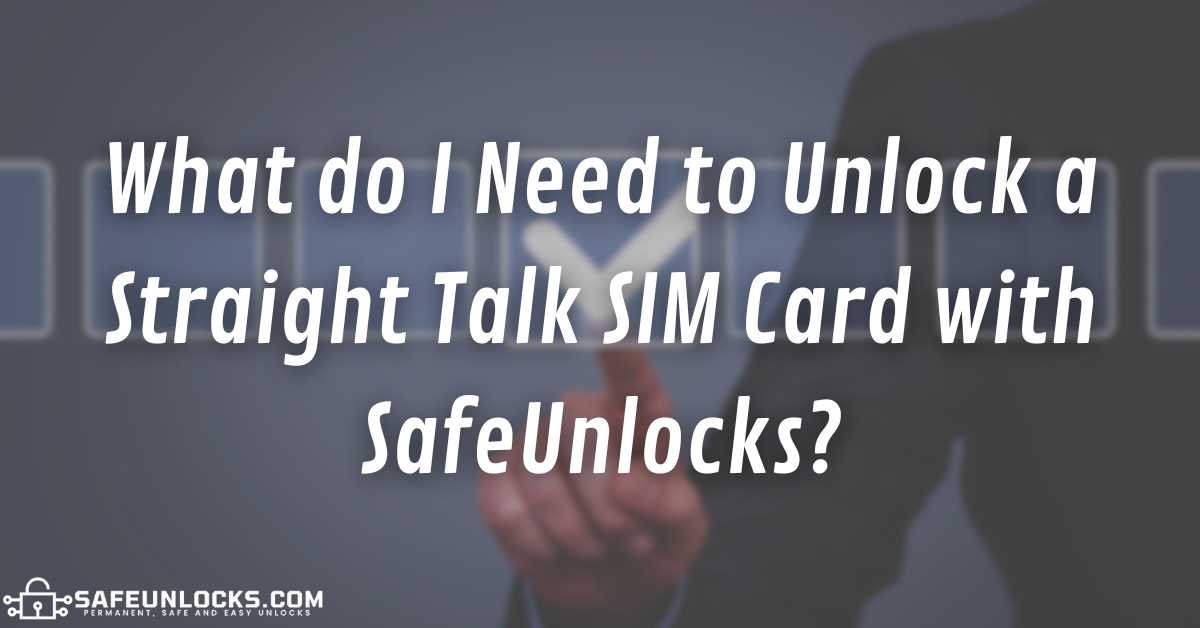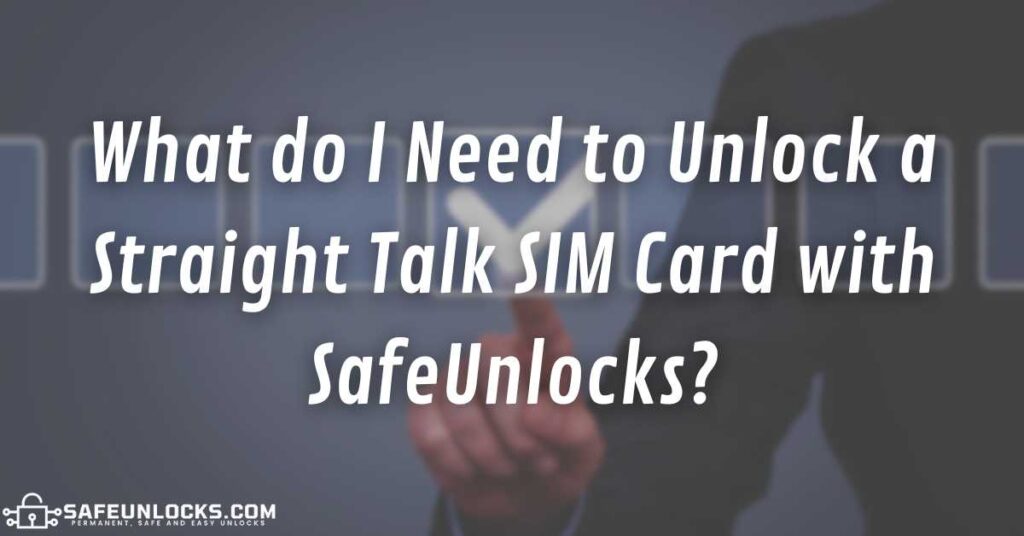 Unlocking your Straight Talk SIM is not only possible but very easy with SafeUnlocks; what our program does is generate the PUK code to unlock your SIM card no matter if you don't remember the current PIN or PUK code, so there is no actual need to contact Straight Talk or change to another SIM.
Let's check together what you, as the end user, will need to request an unlock code for your locked SIM card with SafeUnlocks' Straight Talk Unlock tool.
Requirements to Easily Unlock Straight Talk SIM Card
There are no really any requirements or conditions to use our service; all you need to place a SIM unlock request with us is to have your phone and your locked SIM handy and to be ready to enter the following information into our website:
Your name.
Your email address.
Your SafeUnlocks' official website, go to our "PUK Unlock" portal, and follow the instructions to easily obtain the PUK code to dial it and enter it into your Straight Talk device.

Remember that you can also unlock SIM cards from other carriers, so if your SIM is not from Straight Talk, you can still unblock your SIM without a problem; as soon as you enter your phone number our system will know its carrier and will proceed accordingly.

Why is SafeUnlocks the Best Alternative to Unlock Straight Talk SIM Card?

Why is SafeUnlocks the Best Alternative to Unlock Straight Talk SIM Card?

SafeUnlocks has just launched the best Straight Talk PUK code (2023) generator! Let's check some of the principal aspects that make us such a great option for you to get Straight Talk PUK codes without having to contact the mobile phone provider.

Hight Compatibility – Our System supports SIM Cards from all Carriers!

It doesn't matter if your network carrier is Straight Talk or not; our SIM unlocking software is compatible with all carriers and SIM cards. Also, as this unlock process doesn't have anything to do with your mobile phone itself but with its cellular network, it doesn't really matter if you have an Android phone, an iOS, or any other.

This SIM-Unlock Method is pretty Fast, Affordable, and Effective

With SafeUnlocks, you are able to unlock your SIM in no more than 10 minutes, which is a pretty fast timeframe taking into account that contacting your phone network provider usually takes hours. In addition, this process only costs $1 per PUK code generated and counts on a 99.9% success rate.

This is a Permanent Solution Available Worldwide

After you get the PUK code for your SIM and unlock it with SafeUnlock, it remains unlocked permanently! Unless you lock the SIM card again, the restriction won't be reactivated. In addition, this service is available 24/7 worldwide, so you get to unlock your phone anywhere and at any time!