Curious about unlocking your iPhone device to use it with a new carrier? Let's explore whether the carrier SIM lock is permanent or not, and discover the options you have to free your iPhone from its carrier restrictions so that you can enjoy the freedom to use any SIM card of your choice!
What does an "iPhone Carrier SIM-Locked" Refer to?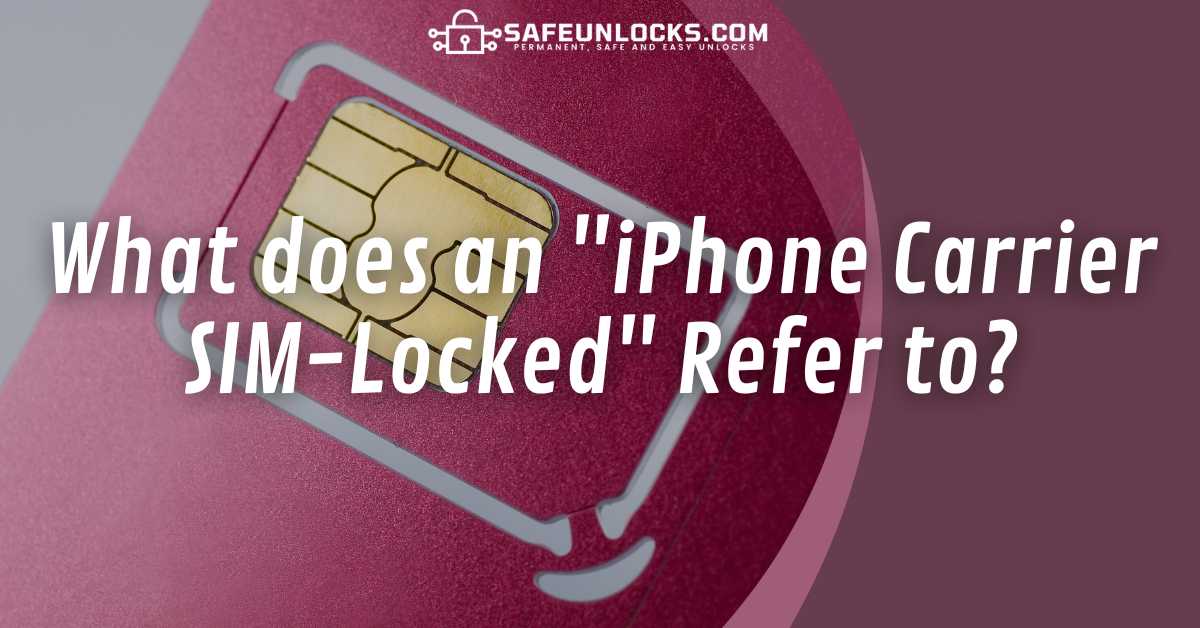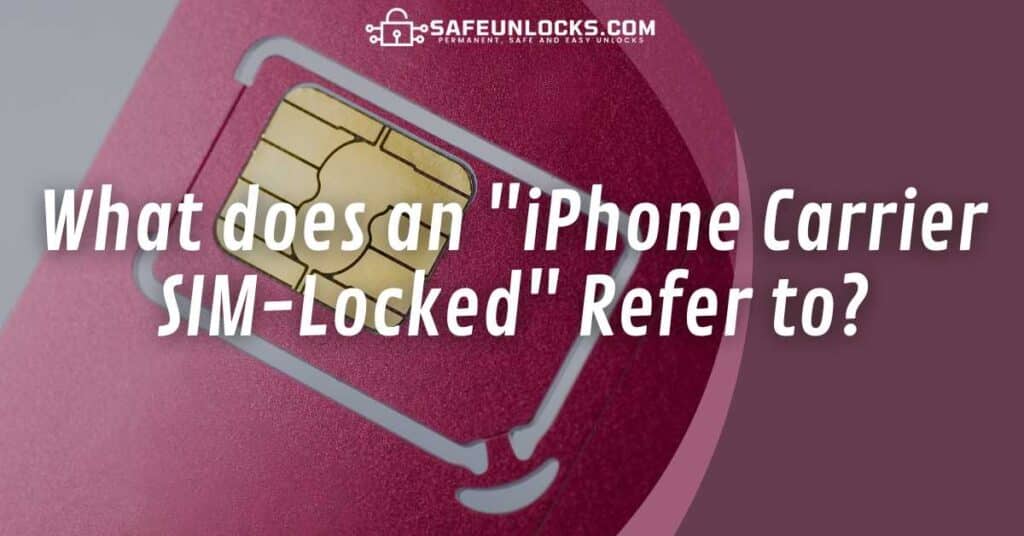 When an iPhone is carrier SIM-locked, it means that the device is locked to a specific mobile carrier and cannot be used with any other network but the one of that specific carrier (the one that sold you the mobile phone). Carriers enable these kinds of locks on the devices they sell in order to prevent them from accepting SIM cards from other carriers, and therefore, keeping their customers using their specific network while their contract finishes.
This means that if you try to insert a new SIM card into your phone that doesn't belong to your carrier, it will show you an error message stating that the SIM card is not valid or that it is not supported (like if the phone is, for example, from MintMobile and you insert a Straight Talk SIM, you will see this error), and it won't be able to get connected to the new carrier's network.
Benefits of Having an Unlocked Device
Unlocking your iPhone will allow you to use it with different carriers and enjoy the flexibility of choosing your preferred network, which comes with some great advantages, such as:
If your iPhone is unlocked, you get to choose the best plans with the rates, incentives, and coverage that adapt to your needs!
You will get to use your mobile phone worldwide, so if you travel to another country or want to move overseas, your phone will still work there.
After you network-unlock your device, its commercial value will increase (so if you want to resell it, you will get more profit out of it).
Is the Carrier SIM Lock Permanent on Mobile Phones?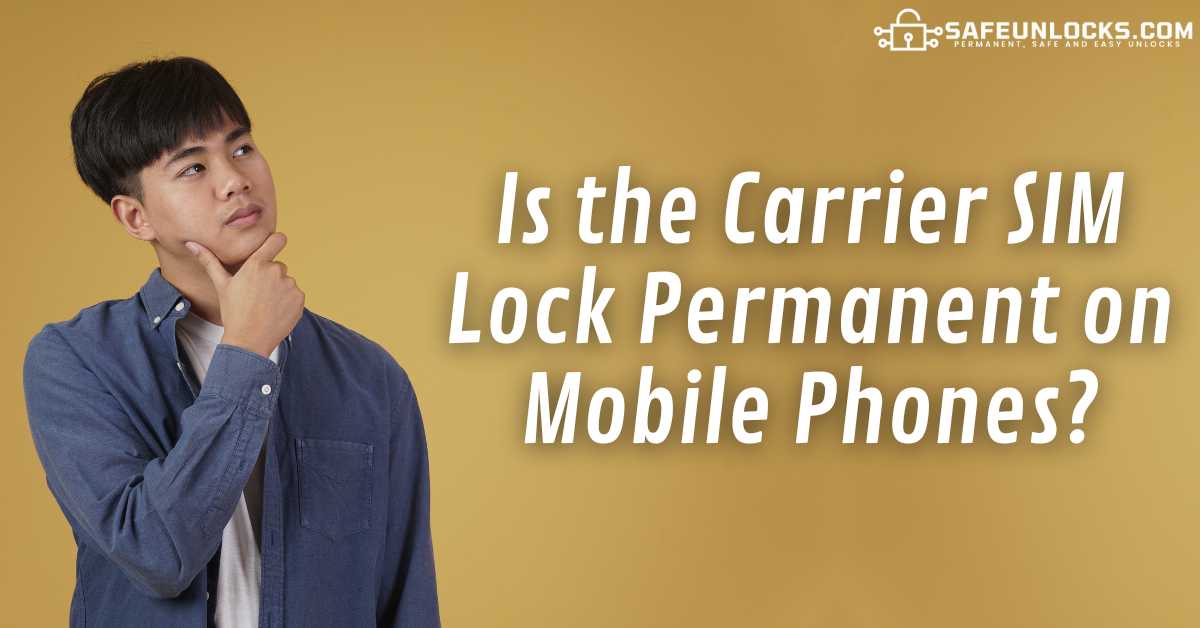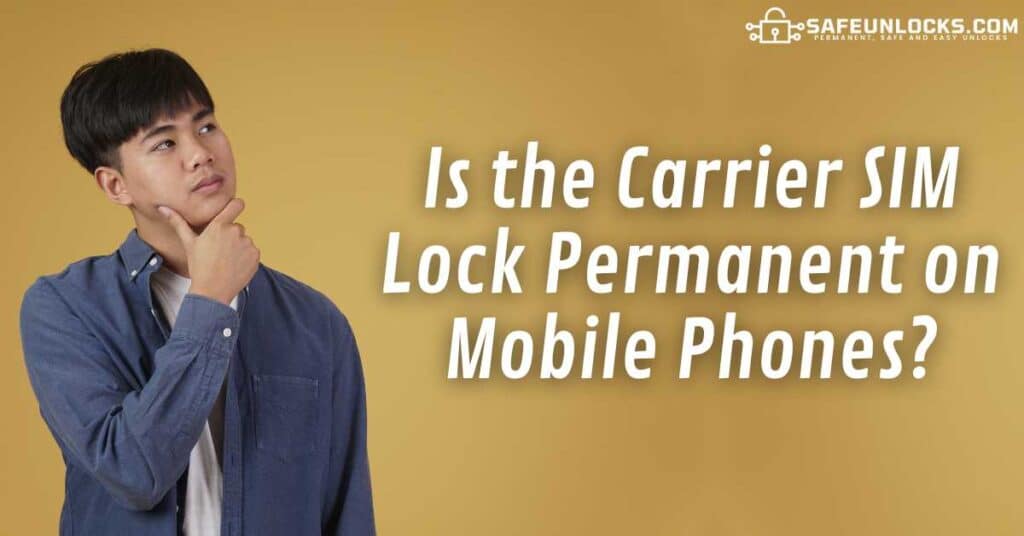 The carrier SIM lock on mobile phones is not permanent, in most cases it is actually removed automatically by your carrier — T-Mobile, AT&T, Verizon, etc. — as soon as your phone becomes "eligible" for unlocking, which happens when you (as the phone owner) have met the carrier's unlock terms and conditions. These unlock conditions include but are not limited to:
The phone must have been active on the carrier's network for a certain minimum period of time which is usually a year (this period of time requested can change depending on your carrier).
If the phone was financed on a monthly payment plan with the carrier, the device must be already fully paid for.
You must be in good standing with the carrier (there cannot be any outstanding balance or unpaid bills).
The phone cannot be reported as lost or stolen.
What if my Phone is not Unlocked Automatically?
If your carrier has not removed the lock yet but you want to switch carriers now, you can get this lock removed by contacting your carrier and asking them to generate a SIM unlock code for your locked iPhone.
However, keep in mind that your current carrier (the phone's original carrier) will only authorize the unlock if you are the legitimate owner of the device to be unlocked, and meet all the criteria we mentioned above (keep in mind that the specific conditions and requirements can apply or change depending on the carrier and contract that you signed with them, so there might be more requirements).
What other ways to Unlock iPhones without contacting the carrier are there?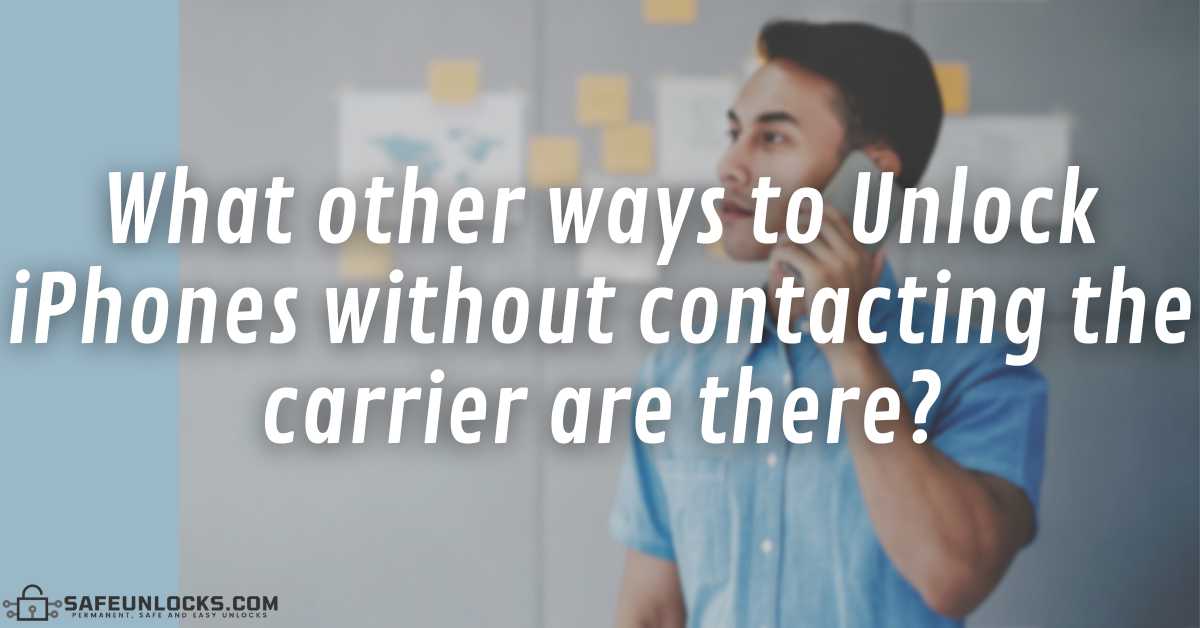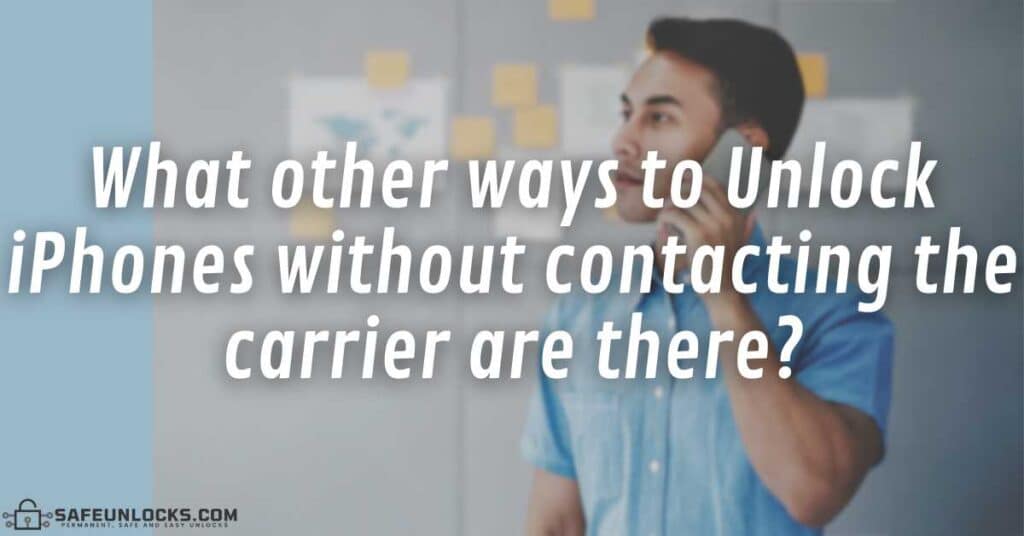 If you were unable to unlock the iPhone with its carrier directly or they didn't accept your unlock request, the alternative that you have is to use an external carrier unlock process such as SafeUnlocks'. What we offer is a third-party unlock that can generate the unlock code of your device with our external software, this unlock doesn't take more than half an hour and is super easy!
In addition, as this unlock is external, you don't really need to contact your particular carrier or meet their unlock requirements to complete the unlock process. All you need to request an unlock with us is to know your phone manufacturer (the phone's brand) and the phone's IMEI number — you can find it by dialing *#06# on your dialer pad or checking the phone's original box/SIM card tray to see if the code is printed there —.
Is it Legal to Unlock my iPhone without the Carrier?
It is completely legal to network unlock phones without the carrier; you just need to make sure you don't employ illegal practices while at it because, for example, even though unlocking your phone is not illegal, changing its IMEI number is, so if the unlock process that you are using includes changing the IMEI, then you shouldn't proceed with it.
That is one of the reasons why SafeUnlocks is such a great unlocking option for you to safely unlock your device, we don't use any illegal practices to fix your iPhone (our process is in fact pretty similar to the one carriers use, the only difference is that we use an external software to do so).
SafeUnlocks' Device Unlock Process: How to Unlock a Carrier-Locked iPhone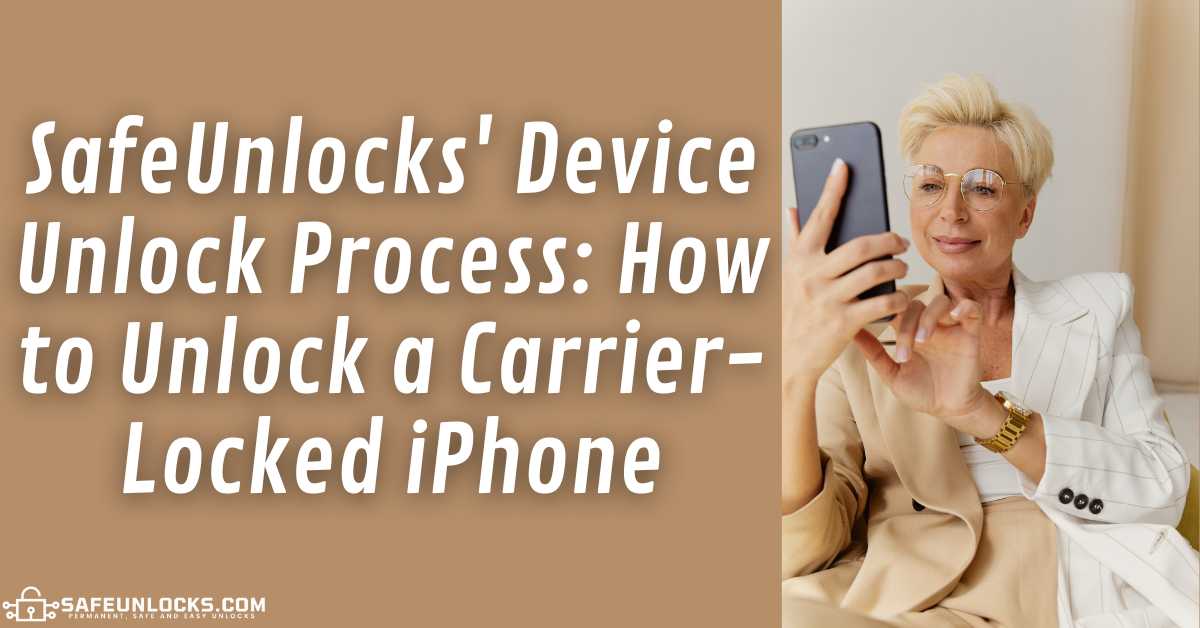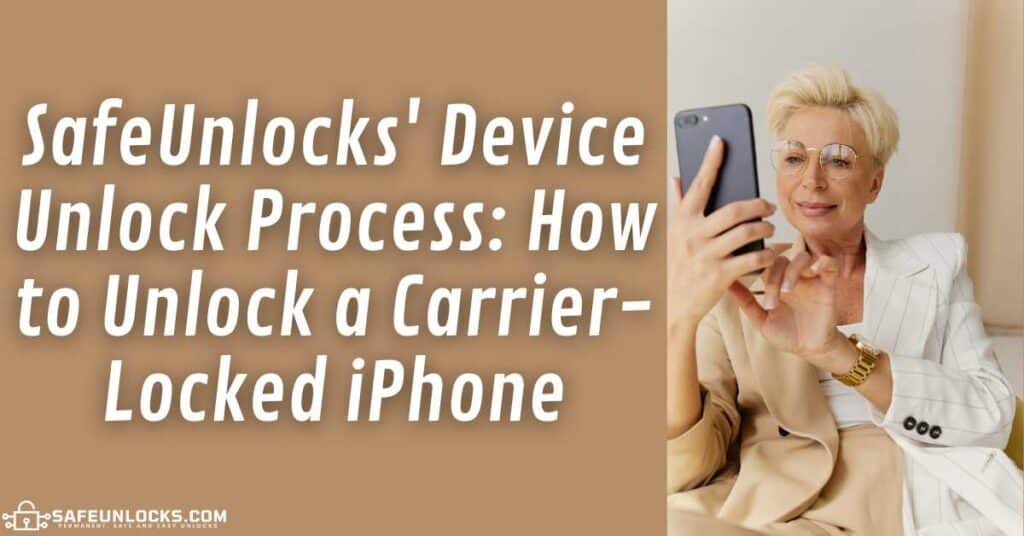 If your iPhone is locked and you are looking for an easy, fast, safe, and effective SIM-lock removal, then SafeUnlocks is what you are looking for. Let's see how you can restore your iPhone connectivity by removing the SIM lock with us!
Step by Step to Unlock iPhones from their Official Carrier with SafeUnlocks
Visit SafeUnlocks.com and click on the "Carrier Lock" box you'll see on the left side of the page.
Enter all the information necessary for us to help you unlock your phone, this includes:

Your name.
Your email address.
The brand of the phone.

Confirm that you accept the $1 fee to sign up and unlock your device with us.
Click on the "Proceed" red button to place your order.


At this point, you'll already have submitted the unlock request and will be a step closer to enjoying your device!
Complete the verification process to create your account with us (if you already have an account, just log into it and continue).
Generate the $1 payment that corresponds to your iPhone unlock.
Wait for a couple of minutes while our system unlocks the phone by generating its corresponding NCK or network SIM unlock code.
Enter the code into the device and enjoy a fully and permanently unlocked device!