If you want to be able to freely use your iPhone with any carrier without having to worry about the SIM lock enabled by the device's original carrier, then you should read this article.
Let's talk about the reasons why carriers lock the mobile devices they sell, the iPhone information and the requirements carriers ask for you to unlock iPhone carrier free of charge directly with them (which is, in fact, the official iPhone unlock method), and the main aspects that make SafeUnlocks the best way to automatically unlock your carrier locked iPhone online.
Why are Carrier Network Providers able to Carrier Lock iPhones?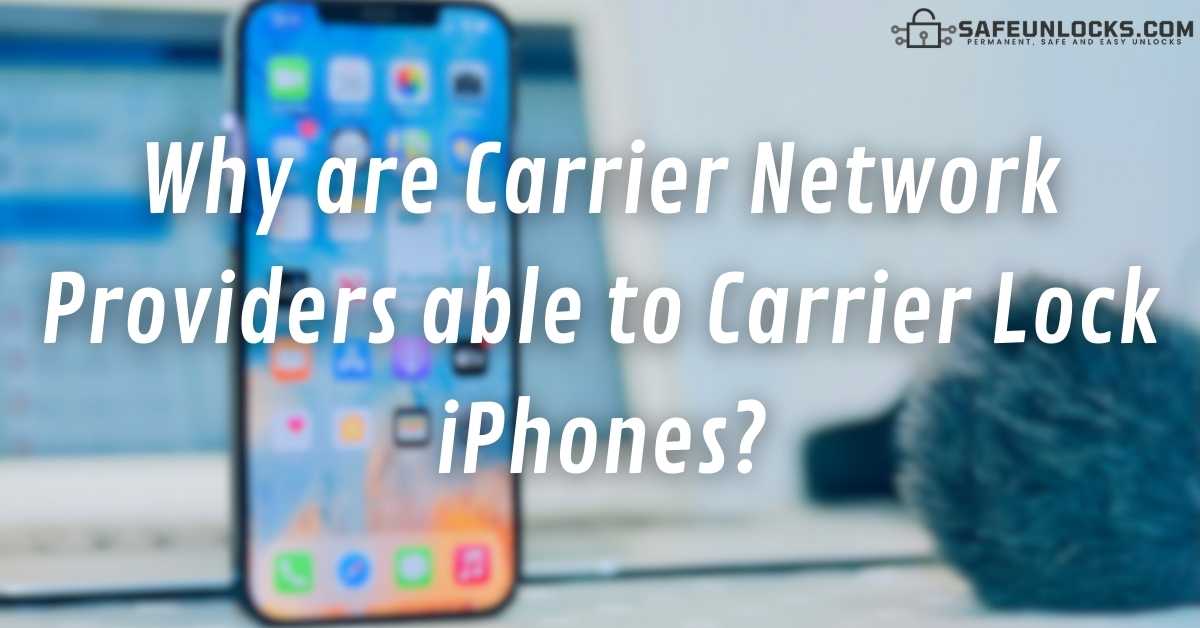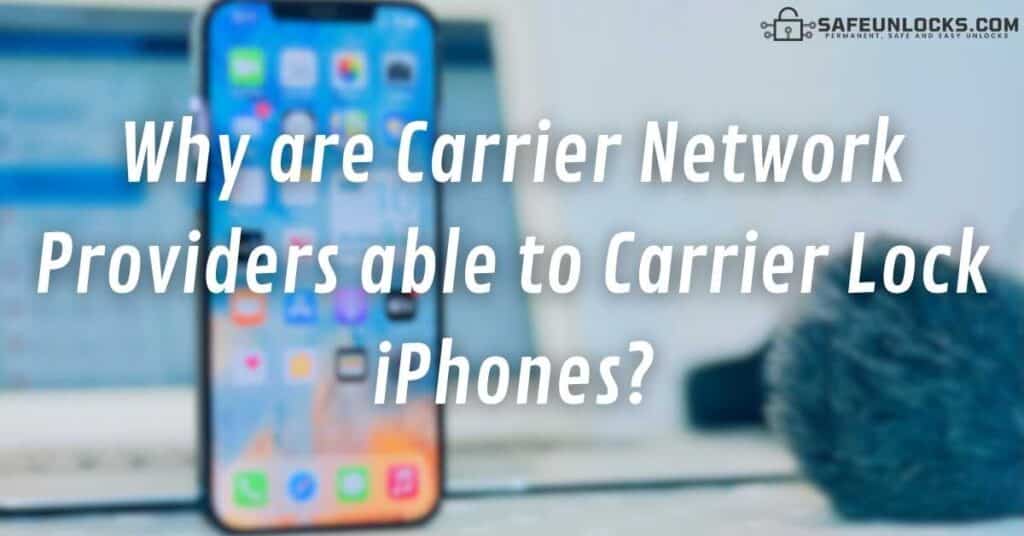 Carrier network providers can carrier-lock iPhones and other mobile devices for various reasons, primarily to protect their business interests and ensure customer loyalty. However, the main reason why carriers lock the mobile devices they sell is that they offer discounted prices on smartphones (including iPhones) when customers sign up for long-term service contracts or installment plans.
Carrier-locking helps ensure that customers fulfill their contractual obligations and prevents them from taking advantage of subsidized pricing and then switching to another carrier.
Are Apple Devices Exempt from Being SIM-Locked by Carriers?
No, Apple devices, including iPhones, are not exempt from being carrier-locked. Carrier-locking can be applied to iPhones by network providers just like any other smartphone because the ability to carrier-lock a device is determined by the carrier's policies and agreements with the device manufacturer.
However, it's worth noting that Apple does offer unlocked iPhones for sale directly from their stores and website, and these unlocked devices can be used with any compatible carrier, providing the flexibility to switch between different networks (because carriers can only lock phones sold by them), so unlocked iPhones are typically sold at the full retail price without any carrier subsidies or contractual obligations.
How do Carriers Benefit from SIM-Locking the Devices they sell?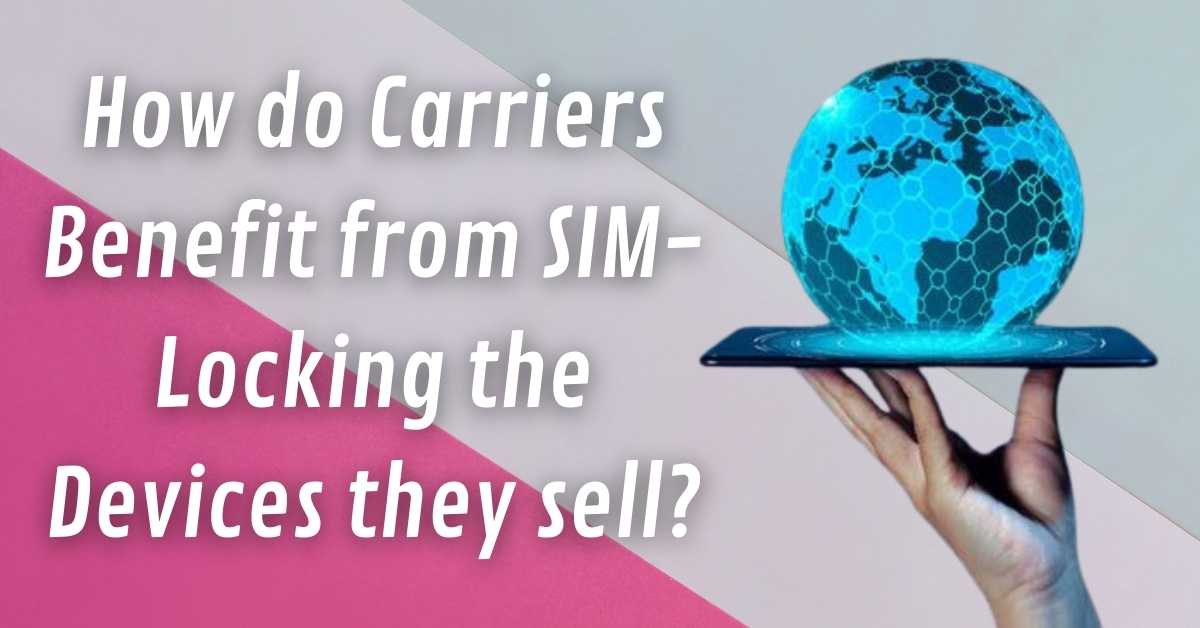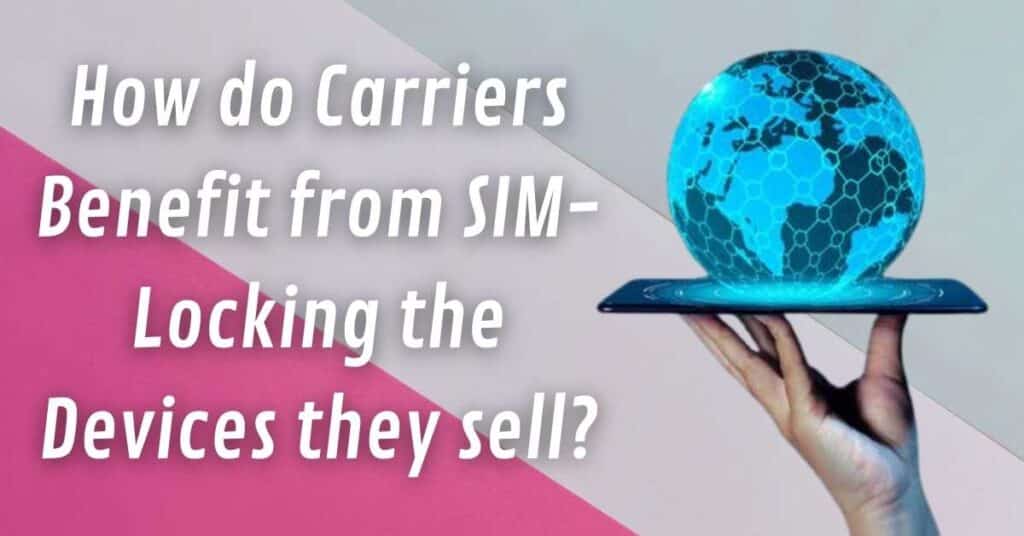 The principal advantage that carriers take from SIM-Locking the phones they sell is controlling the customer's usage, preventing unauthorized device usage on other networks, and maintaining customer loyalty.
However, another important reason why carriers establish this lock is that when a device is locked to their network, customers who wish to switch to a different network must either pay a fee to unlock their device or purchase a new unlocked device, so this creates a financial incentive for customers to stay with the original carrier, providing a steady revenue stream.
Is it Legal for my Carrier to Lock my iPhone?
Yes, in the US it is entirely legal for mobile operators to lock the devices they sell. However, carrier-locking policies and regulations vary across countries and regions, so in some places, carrier-locking is restricted or prohibited by law (allowing consumers to freely use unlocked devices with any carrier of their choice).
Contacting your Mobile Operator for them to Unlock iPhone Carrier Free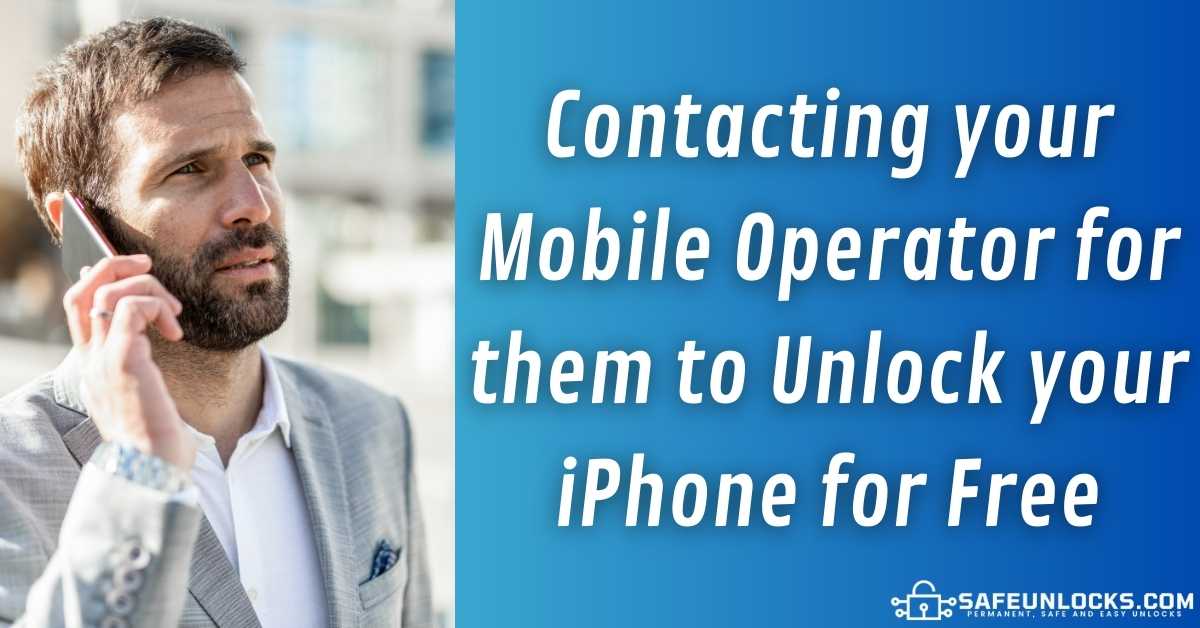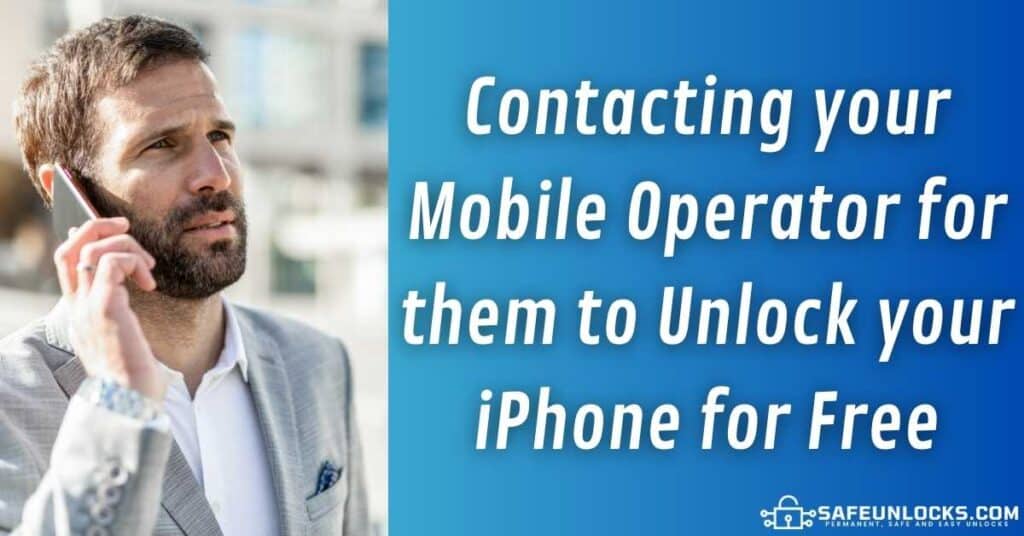 Contacting your current carrier (the one that locked your iPhone) for them to unlock the iPhone is free but is not very easy because of all the conditions they ask for (they ask you to meet a lot of requirements because they want to keep their customers using their service). Your carrier provider will probably deny your unlock request, but in case you want to try, keep in mind the following basic conditions:
If your iPhone was purchased on a contract, your mobile operator will require that the contract term is terminated or that the premature termination expenses are settled before they unlock the mobile phone.
You will need some sort of support to prove you are the original owner of your phone.
Your account with them must be in good standing for them to carrier unlock any device under your name.
The IMEI number of the locked iPhone cannot be reported on the blacklist database (remember to have your IMEI number handy because the carrier will ask for it).
Why is the IMEI Number needed to Remove the SIM Lock from a Mobile Device?
Device Identification: The IMEI number is a unique identifier assigned to each mobile device, so by providing the IMEI number, carriers can accurately identify the specific device that needs to be unlocked (this helps prevent fraudulent or unauthorized iPhone unlocking requests).
Verification of Ownership: When your iPhone is locked, carriers use the IMEI number to verify that you are the rightful owner of the device, so when you request an unlock, they match the IMEI number with their records to ensure that the device is associated with your account (this step adds an additional layer of security to prevent unauthorized access because you need to have the right to unlock it).
Technical Requirements: SIM unlocking an iPhone involves specific technical processes or configurations on the carrier's network, the IMEI number is used to trigger these processes and ensure that the device is properly configured to work with a new SIM card from another carrier (it helps carriers manage the technical aspects of unlocking and ensure a smooth transition to the unlocked state).
Why Carrier Unlock your Device with SafeUnlocks' iPhone Unlock Service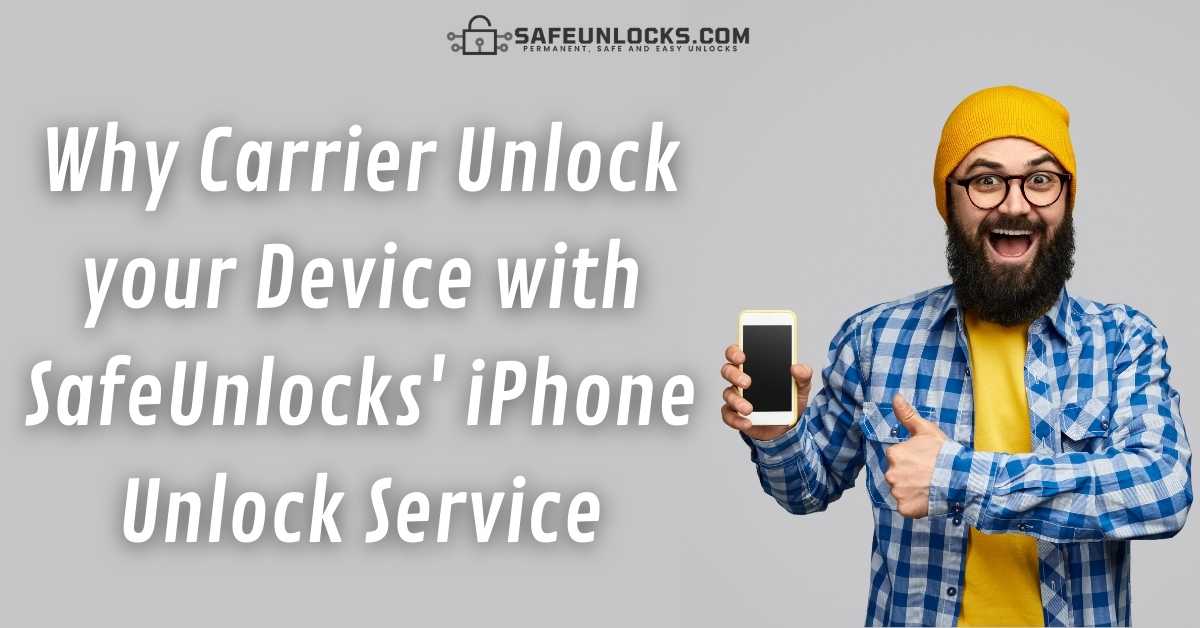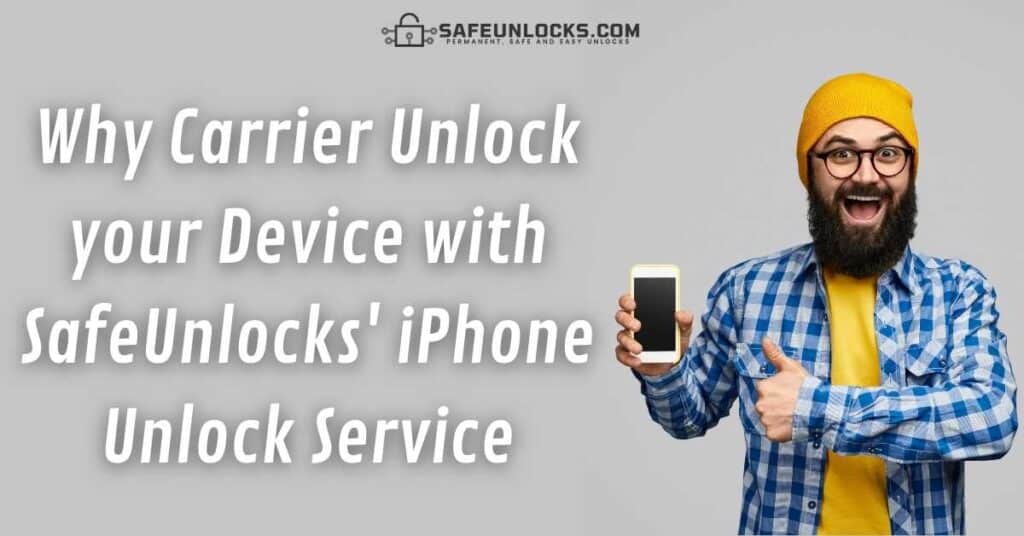 Getting the unlock code for any iPhone model is the best alternative you have if you need to network unlock a device that cannot be unlocked with the carrier directly (no matter if it is because of your account status or because you have a second-hand device). Let's talk about the principal benefits that SafeUnlocks has for you:
You can remove the network lock on your iPhone in no more than 20 minutes without having to contact the carrier or network provider.
If your iPhone is unlocked with SafeUnlocks, it'll remain unlocked permanently (this is a one-time unlock).
It doesn't matter which specific carrier locked the device, you can get your iPhone unlocked either way as SafeUnlocks is compatible with all phone network providers and manufacturers.
How much is it to Unlock a Carrier-Locked iPhone?
Unlocking your iPhone with SafeUnlocks' online services has a cost of $1 per unlocked device, we use this money to maintain our unlocking software and keep it updated so that it is effective. This $1 is a one-time payment and covers the unlock of one mobile device regardless of its brand, model, commercial price, and carrier.